This article walks you through the steps to use Virtual Classroom dashboard to create and manage multiple domains with a unique API key
Step 1:
Login to Virtual Classroom platform. Click on 'Create Domain' to add your domain to virtual classroom dashboard.



Step 2:
Enter the Domain Name where you will be running this virtual classroom, click 'Generate' to API Key and click 'Save'. Use the API Key in the entered URL to integrate the virtual classroom.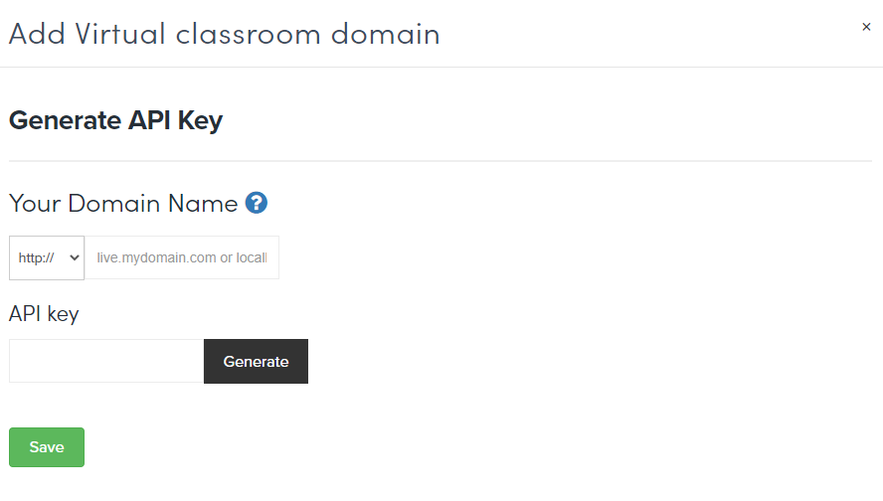 Managing Your Virtual Classroom Domain
Step 3:
Click on 'More' for the virtual classroom domain that you have to manage and click on the necessary action items to update the respective domain. Kindly follow the below steps to understand the steps to be taken to manage the domains.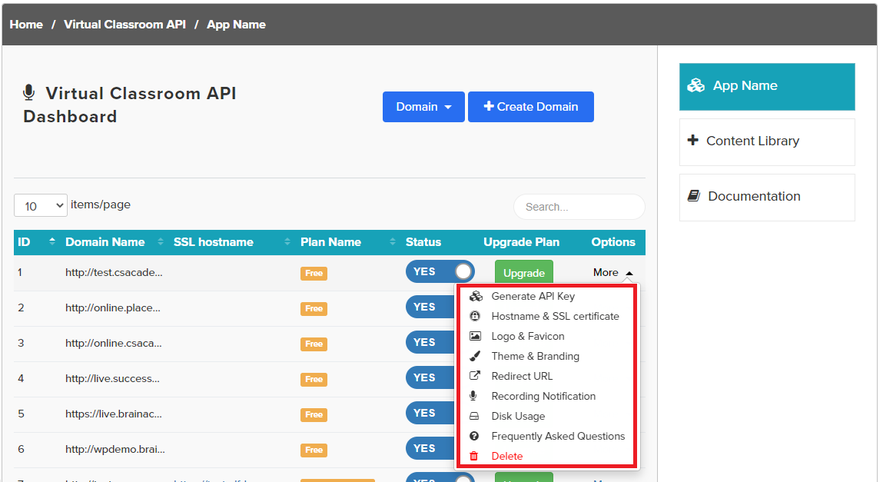 Generate API Key
Step 4:
Use the generate API key feature to change the domain name and API key anytime. After making the necessary changes, click on "Save" for the changes to get updated.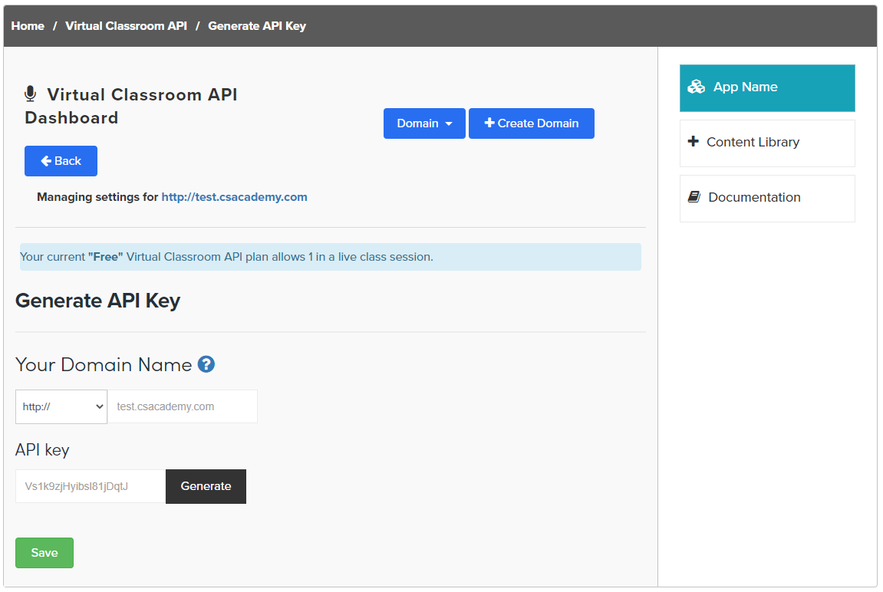 Hostname & SSL Certificate
Step 5:
Add custom hostname and click "Set custom hostname" to make the hostname as needed. Then click on "Request SSL Certificate" to order the free SSL certificate for your hostname.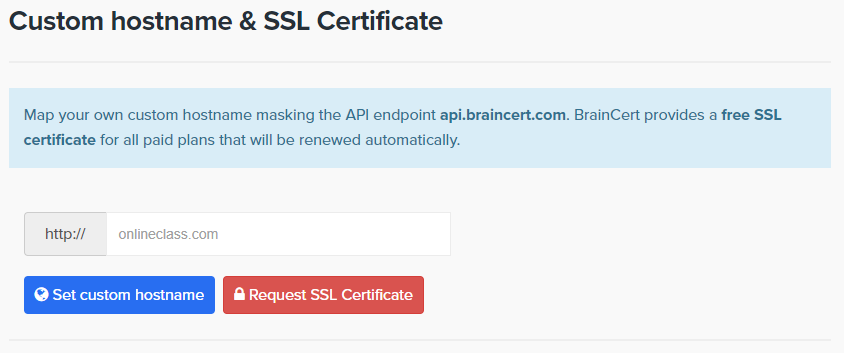 Logo & Favicon
Step 6:
Click on the "Upload HTML5 Logo" to upload your logo and use "Upload Favicon" to upload the favicon. Please make sure to click "Save" after uploading logo and favicon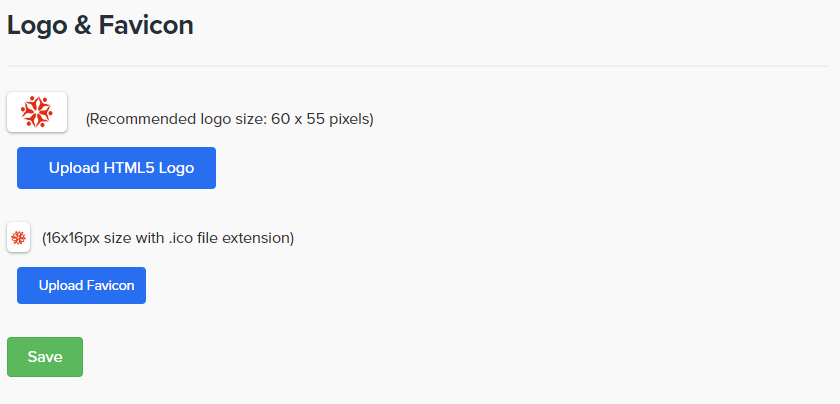 Theme & Branding
Step 7:
Customize the theme and branding by changing the color and background of the button, tools, tabs, bar etc., and click "Save".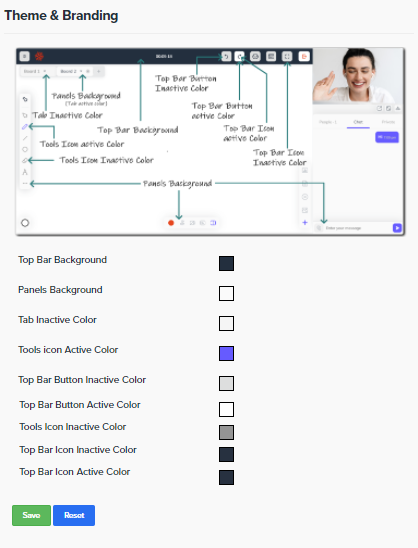 Redirect URL
Step 8:
Update the redirect URL and click "Save". So that your attendees are redirected to the URL specified here after the classroom session ends.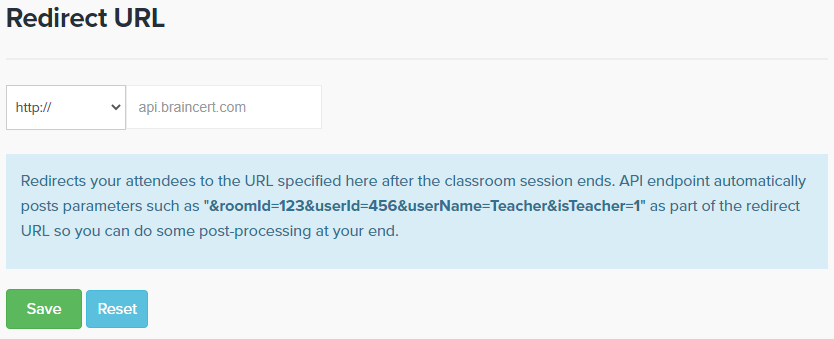 Recording Webhook
Step 9:
Update the URL and click "Save" to view the class recording after the class.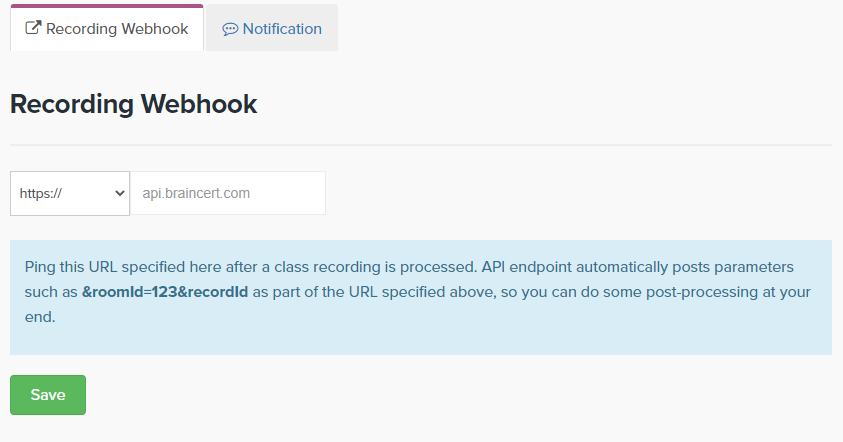 Step 10:
Click on "Notification" tab to set a email notification of the video recording.